The Commissioner of the Commission on Human Rights and Administrative Justice (CHRAJ) Mr. Joseph Whittal has assumed a new role as Chairperson of the Network of African National Human Rights Institutions (NANHRI).
The leadership transition took place during the 14th Biennial Conference of NANHRI in Accra, Ghana at the Network's Annual General Meeting (AGM) amidst esteemed delegates from National Human Rights Institutions (NHRIs) across Africa.
Commissioner Whittal, who has served as the Vice Chairperson of the Network for the past two (2) years, and is renowned for his unwavering dedication to human rights causes, officially accepted the role succeeding the outgoing chairperson, Dr. Elasto Hilarious Mugwadi. Dr. Mugwadi who is also the Commissioner of the Human Rights Commission of Zimbabwe held the office as Chairperson of the Network from 2021 to 2023.
In a heartfelt speech, Dr. Mugwadi thanked the leadership of NANHRI for their immense support and contribution to the success of his tenure in the face of challenges during the COVID-19 pandemic. He especially recognized Mr. Whittal's assistance over the period and his active involvement in deliberations on issues relating to the Network.
The outgoing Chairperson stated that Mr. Whittal has a proven track record, having served diligently in various capacities within the Network as well as being the Commissioner of CHRAJ, an 'A' status National Human Rights Institution (NHRI) which is a great benchmark of a compliant NHRI to the Paris Principles. He, therefore, said he was very confident that the NANHRI would be in good hands considering the wealth of experience and expertise the new Chairperson has. Dr. Mugawdi concluded by thanking members for giving him the opportunity to serve and extended his best wishes to Commissioner Whittal as he takes the helm of affairs as the new Chairperson.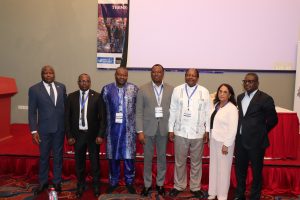 The new Chairperson of NANHRI, Mr. Joseph Whittal in his acceptance speech emphasized the importance of collaborative efforts among African nations to address human rights violations, promote equality, and foster social justice in the African Region. He added that he was poised to continue the crucial work of advancing human rights and social justice on the African continent with the support of the steering committee and all members of the Network. He further pledged to build upon the foundations of his predecessor to make a lasting impact and further the cause of human rights in Africa.
The AGM featured election of members to the NANHRI Steering Committee and representatives to the Global Alliance of National Human Rights Institutions (GANHRI).
Besides the elections, the meeting also included interactive discussions and presentations by experts in various human rights fields during which participants engaged in lively debates, sharing insights and best practices that would undoubtedly shape the future of NANHRI.