The Commission on Human Rights and Administrative Justice (CHRAJ), chaired by its esteemed Commissioner, Mr. Joseph Whittal has received the prestigious 2023 Human Rights Prize of the De Sanctis Foundation Award in recognition of the Institution's remarkable achievements and in acknowledgment of the outstanding contributions of its Commissioner to the protection and promotion, of human rights on the Continent, at the second (2nd) edition of the "De Sanctis Award for Human Rights"
Commissioner Whittal was among three (3) awardees who received their Award Medals in the Human Rights category during a ceremony at the historic Palace of Justice in Rome, Italy.
The event which aimed to recognize exemplary efforts and celebrate remarkable achievements of authoritative figures who have distinguished themselves in defending human rights was graced by the First President of the Supreme Court of Cassation, Margherita Cassano, and the President of the De Sanctis Foundation, Francesco De Sanctis, and the President of the De Sanctis Award, Gianni Letta.
The jury, chaired by Pietro Curzio, President Emeritus of the Supreme Court of Cassation, in their justification said they chose to honor CHRAJ for its multifaceted and impactful role in upholding human rights, not only within Ghana's borders. They stated that their decision was rooted in the profound recognition of CHRAJ's extensive responsibilities and tangible impact, making Ghana a shining model for human rights protection globally, particularly, Ghana's exemplary guarantee of religious freedom and harmonious coexistence between the Christian majority and the Muslim minority which stands as a testament to its commitment to fundamental liberties, thereby becoming a beacon for the world to follow.
Furthermore, the jury lauded Ghana's progressive stance on the international stage, noting that in 2022, Ghana voted in favor of the United Nations General Assembly resolution for a universal moratorium on the death penalty. This was a historic decision underscoring Ghana's dedication to the principles of humanity and justice.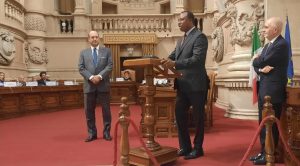 Another compelling reason for awarding CHRAJ was also due to its collaborative efforts and active engagements with global institutions such as the United Nations (UN), with specific reference to the UN High Commissioner for Human Rights, and notable partnerships with the European Union as well as its involvement in regional consultations of National Human Rights Institutions (NHRIs) Globally. In addition to this, CHRAJ also commemorates and participates in celebratory events of the UN, including International Human Rights Day, and World Day against Child Labour, International Day in Support of Victims of Torture among other landmark UN days thereby showcasing Ghana's commitment to implementing vital development policies and programmes in addition to promoting human rights.
The jury, however, expressed profound concern about nations that flout democratic values, justifying human rights violations and denying fundamental freedoms. They emphasized that such actions impede internal progress and damage the fabric of multilateralism, potentially leading to conflicts between states.
The accolade bestowed upon CHRAJ is a global endorsement of Ghana's unwavering commitment to the principles of freedom, democracy, and the rule of law and also resonates with its mandate to protect and promote universal human rights and other freedoms relating to civil, political, economic, social and cultural rights.