CHRAJ News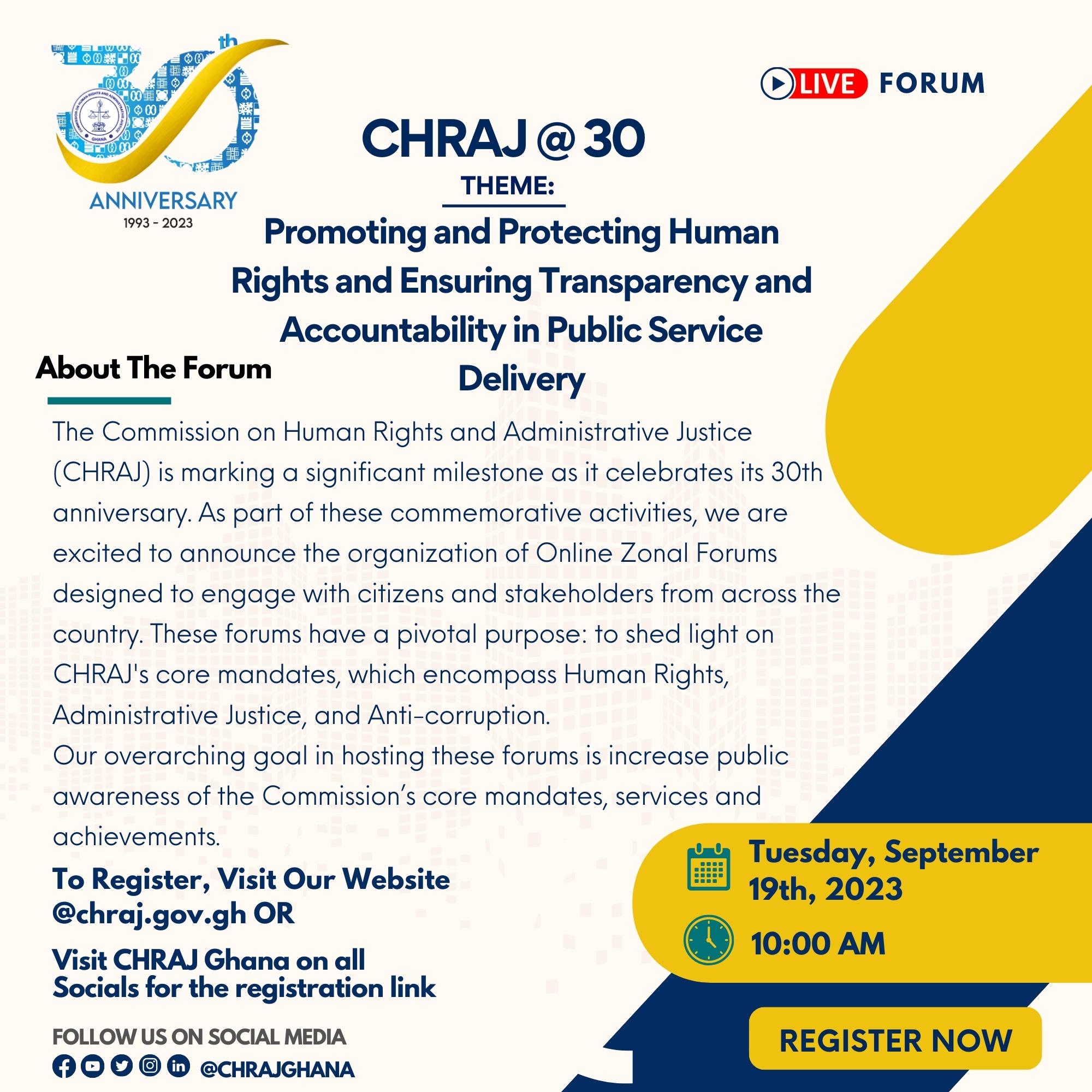 REGISTER NOW: CHRAJ AT 30 ONLINE ZONAL FORUMS
REGISTER NOW: CHRAJ AT 30 ONLINE ZONAL FORUMS
CALL FOR THE SERVICES OF A CONSULTANT
CALL FOR THE SERVICES OF A CONSULTANT
AFRICAN UNION REPRESENTATIVES PAY COURTESY CALL ON CHRAJ COMMISSIONER
AFRICAN UNION REPRESENTATIVES PAY COURTESY CALL ON CHRAJ COMMISSIONER
OXFAM AMERICA PAYS COURTESY CALL ON CHRAJ TO FOSTER COLLABORATION ON BHR
OXFAM AMERICA PAYS COURTESY CALL ON CHRAJ TO FOSTER COLLABORATION ON BHR
CHRAJ AT 30: VISION AND MISSION TO BECOME A REALITY, NOT A MIRAGE – JOSEPH WHITTAL
CHRAJ AT 30: VISION AND MISSION TO BECOME A REALITY, NOT A MIRAGE – JOSEPH WHITTAL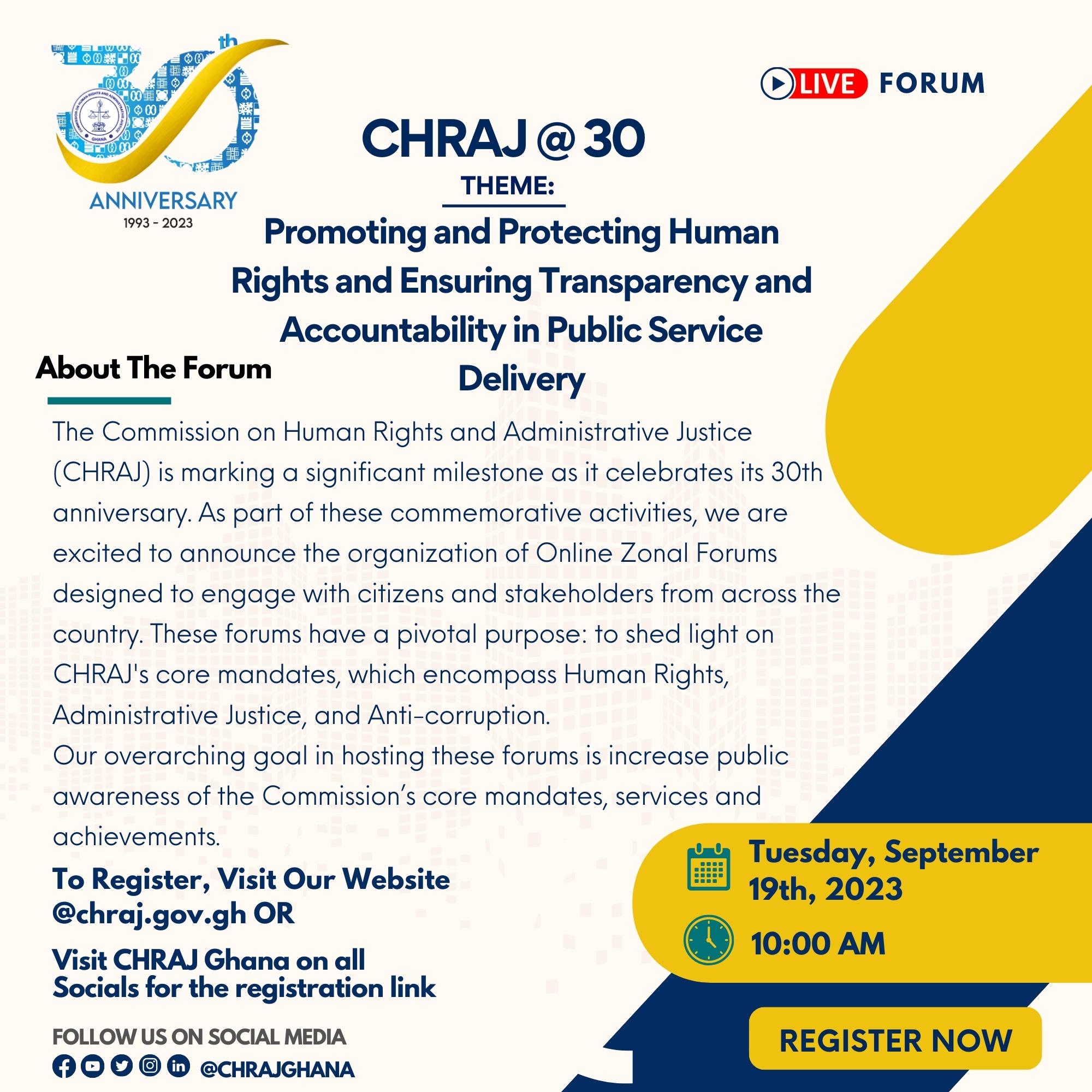 Welcome to CHRAJ
I am pleased to welcome you to the online resource of the Commission on Human Rights and Administrative Justice (CHRAJ)...
Festival Hacks
CHRAJ has a broad mandate to protect universal human rights and freedoms, especially those vested in the 1992 Constitution, including civil, political, economic, social, and cultural rights.
Vacation Spots
As the Ombudsman of Ghana, CHRAJ is mandated to protect and promote administrative justice to ensure that the government and its officers are ...
Beauty
CHRAJ also serves as an Anti-Corruption Agency. Its anti-corruption powers stem from Articles 218(a) & (e); 284-288 of the 1992 Constitution and Section ...
ARAP-HANDS-OVER-VIHECLES-TO-CHRAJ-5-scaled
ARAP-HANDS-OVER-VIHECLES-TO-CHRAJ-4-scaled
ARAP-HANDS-OVER-VIHECLES-TO-CHRAJ-3-scaled
ARAP-HANDS-OVER-VIHECLES-TO-CHRAJ-2-scaled
ARAP-HANDS-OVER-VIHECLES-TO-CHRAJ-1-scaled
ELECTION2020-MONITORING-THE-WRITE-TO-VOTE-5-scaled
ELECTION2020-MONITORING-THE-WRITE-TO-VOTE-4-scaled
ELECTION2020-MONITORING-THE-WRITE-TO-VOTE-3-scaled
ELECTION2020-MONITORING-THE-WRITE-TO-VOTE-2-scaled
ELECTION2020-MONITORING-THE-WRITE-TO-VOTE-1-scaled
HANDING-OVER-OF-REPORT-BY-THE-HUMAN-RIGHT-REFORMS-COMMITTEE-4-scaled
HANDING-OVER-OF-REPORT-BY-THE-HUMAN-RIGHT-REFORMS-COMMITTEE-3-scaled
HANDING-OVER-OF-REPORT-BY-THE-HUMAN-RIGHT-REFORMS-COMMITTEE-2-scaled
HANDING-OVER-OF-REPORT-BY-THE-HUMAN-RIGHT-REFORMS-COMMITTEE-1-scaled
NANHRI-WEST-AFRICA-ELECTION-MONITORING-DEBRIEF-4-scaled
NANHRI-WEST-AFRICA-ELECTION-MONITORING-DEBRIEF-3-scaled
NANHRI-WEST-AFRICA-ELECTION-MONITORING-DEBRIEF-2-scaled
NANHRI-WEST-AFRICA-ELECTION-MONITORING-DEBRIEF-1-scaled
Public-Education-Training-scaled
SDR-E-Learning-Training-6-scaled
SDR-E-Learning-Training-5-scaled
SDR-E-Learning-Training-4-scaled
SDR-E-Learning-Training-3-scaled
SDR-E-Learning-Training-2-scaled
UN-AU-ECOWAS-OBSERVER-MISSION-VISIT-5-scaled
UN-AU-ECOWAS-OBSERVER-MISSION-VISIT-4-scaled
UN-AU-ECOWAS-OBSERVER-MISSION-VISIT-3-scaled
UN-AU-ECOWAS-OBSERVER-MISSION-VISIT-2-scaled
UN-AU-ECOWAS-OBSERVER-MISSION-VISIT-1-scaled
UPR-WORKSHOP-20-02-2020-4-scaled
UPR-WORKSHOP-20-02-2020-3-scaled
UPR-WORKSHOP-20-02-2020-2-scaled
UPR-WORKSHOP-20-02-2020-1-scaled